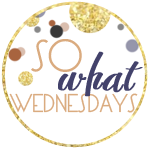 This week, I'm saying SO WHAT:
Two of the past three times I've gone to workout was because I finally got access to the WiFi and could watch my shows on Hulu completely uninterrupted. And be on the treadmill - the fat-free icing on the cake.
Avery has a legitimate obsession with Chap Stick. She's hoarding them - I may need to call in TLC.
I let Avery pick out Nate's birthday cupcakes. They were Sesame Street.
I didn't get Nate a birthday present. I did, however, take the girls to the Dollar Tree and let them go nuts. They bought him Chapstick (guess who's pick), a Spiderman wash cloth, a travel coffee mug and two chocolate bars.
Project Runway Spoiler Alert: I was more disappointed than I should have been about Justin not winning. But I feel like we're friends because he likes me Tweets.
This week we dug out the winter coats and bought new snow boots. Ugh, I miss summer.
With new babies in our world, Olivia is asking more and more questions. The answers "from God," and "I don't know," are only going to last me so long.