It's been a while since I've vented and bragged with Shannon, but it feels like a good time to spout off some of my clever comments to hopefully, make you laugh, or even feel better about yourself in comparison!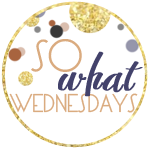 Lately, I've been saying SO WHAT:
Sadly, shows like Modern Family and The Office have totally ruined sitcoms for me. If there's a stage and an audience, I find everything cheesy and unwatchable, even if the jokes are good.
I learned that there are six fewer shopping days between Thanksgiving and Christmas and the fact didn't phase me. I'm a staler, no matter what. It'll all get done, the kids don't know when gifts are wrapped in July or Christmas Eve!
I am, however, starting to think about Christmas cards. We had an amazing session and I can't wait to see all of the final work. Spoiler alert: we have an actual photo of both girls looking and smiling at the camera at the same time!
Mandatory stops during any trip to Target now include a stop at Food Ave so I can buy a Diet Coke and the bakery, so the girls can get a free cookie. Liv knows her favorite baker by name. Dustin. He's about 19. Don't tell Nate about her crush.
Weekends this fall have been so busy, we have been able to take the obligatory and traditional trip to an apple orchard or pumpkin patch. Maybe this weekend. Or maybe I'll just snap a pic of the girls in front of the pallet of pumpkins in the grocery section on my phone and call it a day.
Mornings when I don't have to go into work and Liv doesn't have school have the following routine: girls wake up after 7 AM, I tell Liv to turn on a show for them in the living room and I snooze until 8. There have been no fires or incidents that resulted in blood, so I'm good with this routine.
My favorite new fall shows include, but are not limited to: Hostages, Brooklyn 99, and The Goldbergs. And of course, my returns lovers: Top Chef, Survivor, Homeland and New Girl.
I have no desire to see Gravity. Reviews are good. The images look spectacular. I cannot figure out how they make Sandra Bullock floating around in space for 2 hours entertaining. Redbox, maybe. I'd rather see The Croods first.