This post is also
Shannon's
GUEST POST for the week, in preparation for little James Weston's arrival. We should all be so lucky to have a little bundle coming our world so soon! (Except for I like having 8-straight-hours of sleep at night.)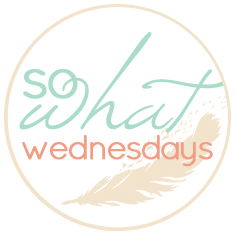 This week, I'll say SO WHAT:
The hubs and I are hitting the produce section pretty hard these days and trying to eat more than cheese and chicken. Luckily my kids LOVE fruits and vegetables, so this is really a win win.
I made green beans for dinner. They were topped with bacon. I couldn't help it!
I've also been hitting the yoga mat hard and remember why I love it so much. I get a good, sweaty workout and I'm not running (which I hate!)
That being said, I only go to our gym for classes because of the free childcare. I'd love to try another studio, but I don't think the girls would stay quiet for the 60-minute class!
Yes. I hate running. I try. I know it's good cardio. I know there are other cardio options, but I really don't find the same "high" that others do.
I let the girls play in the backyard while I'm inside making lunch/dinner/watching TV with the windows open. We have a fence and I call out for a "body count" about every 7 minutes. They've been fine so far!
I wore a skirt to work. The "so what" comes in because I hadn't shaved my legs in about 2 weeks. #happytobeblonde
I want Nate to get a better job so we can afford to charter the Honor yacht like on Below Deck.
new and not on Shannon's post today
I want a little (or a lot) of hail to come our way this summer because a new roof would sure be nice. Oh the things grown-ups dream about.
Super excited to get my baby fix here in August. That new baby smell, there's nothing like it.
I wanted to let the girls paint their own book shelves for their bed (the IKEA spice rack variety) but my need to have things clean and cute - I may have "helped" more than I should have.
Thanks for hearing me out. Stop over and tell me what you're saying SO WHAT to this week!