Summer is all about grilling. August is upon us and soon the trees will start to change color and the winds will drive us back indoors to stand over stoves and hot ovens to prepare meals. I need to soak in as much summer as I can before we hibernate for 8 months!
A cheeseburger is good, but a burger with cheese mixed IN is even better! The addition of the BBQ sauce gives a sweet, tangy plus much needed moisture for lean ground beef. Add a side of light cole slaw and you've got a great way to end a hot day. Oh, the Summer Shandy beer is optional, but highly recommended!
Gather up:
1 lb ground beef
2 Tbsp BBQ sauce
splash or two of worcestershire sauce
2 Tbsp bread crumbs
seasoned salt and pepper
Mix all of your ingredients together, but don't over mix. You want to keep the integrity of the beef and cheese crumbles without breaking them down too much.
Divide the mix into 4 equal parts and start forming your patties. This step is critical. Because you're adding goodies and moisture, the patties will have a tendency to fall apart on the grill. If you struggle to keep your burgers together, you may opt to cook these on a grill pan indoors (which defeats being a Child of Summer) or laying down a layer of tin foil on your grill. My patties were on the softer side, but I managed to keep all four intact with a little love and holding my breath when I was flipping them!
Make sure that your patties have a little indent in the middle to account for puffing when cooking. We want a burger patty, not a burger ball when we're all done!
Grill patties over med-high heat until cooked through, about 8 minutes total. Cheese will ooze and mess up your grill plates, but that's what your steel wool is for. All in the name of a great dinner!
Serve these burgers with a side of my light cole slaw, made with minimal low-fat mayo and minimal sugar, this isn't exactly a super healthy side, but better than some!
1 bag cole slaw mix
1/2 cup low-fat (or fat-free) mayo
2 Tbsp apple cider vinegar
2 tsp sugar
1 tsp Dijon mustard
salt and pepper to taste
Toss everything together and let sit at least 1 hour before serving! Enjoy!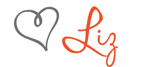 Meet this wonderful sponsor