It's been a long time. I thought about doing my own weekly good thing, bad thing, but that didn't exactly work out (insert typical SO WHAT) But that's doesn't mean I'm not excited to rant and rave you
Shannon
, and you.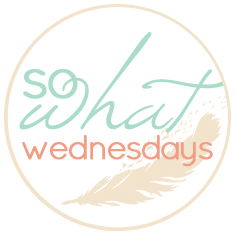 I went for a run on Saturday and pulled a muscle in my calf. It hurt so bad, I stopped dead in my tracks and Nate had to run ahead and come back to get me in the car. #whyidontlikerunning
My dad has chronic pain and thankfully shared one of his codeine pills with me so I could sleep on Saturday. I took it and 3 minutes later, I couldn't even feel my face. It was wonderful.
I am so, so excited that Project Runway is back! I miss Michael Kohrs, but really glad to see more Tim Gunn (or Baileywick, as Liv calls him.)
My wardrobe Wednesday - Sunday consists of a swimsuit, cover-up and pony tail. I shower more to wash chlorine from my skin rather than actual hygiene.
I was really excited to hear about the Royal Baby and was kinda surprised at the lack of American fanfare the night he was born.
Liv and I went shopping for her school supplies. I'm going to have a Kindergartener and I am so not ready for that.
I am so unbelievably in love with the Olive + Birch custom print I had made for my friend's gonna-be-sometime-soon-when-the-right-birthmom-comes-along baby. I'll share it next week, after I've given it to her!
I made a lazy parent dinner on Sunday. They ate. I relaxed. I'm good with that.
All ad spots are available at 40% off! Use LOVER at checkout! See more of my stats and make your purchase {here}