Remember
this post
from a week or so ago? We played out in the sunshine in light sweatshirts and had a grand time. It was awesome.
And then, our yards were blanketed with inches of snow - measurable amounts of ice and slush and cold came. Again. In April. There are so many expletives I have for this cold and yuck, but I'm trying to keep this as light and family-friendly as I can!
In an effort to make lemonade from these lemons, or iced lemonade, at the very least, we made a snowman.
Might as well let the kids enjoy the snow, even if the adults had a hard time finding joy in it. We find our joy in them sometimes.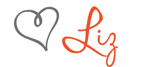 Meet this wonderful sponsor