You may have noticed Erin's banner at the bottom of my posts this month. She write a darling blog, and her daughter is so stinkin' cute, I can't stand it! You can follow Erin {
here
} (please do!)
And now, please read this wonderful guest post she wrote just for the According to L readers!
I am so excited to be guest posting for Liz while she and her adorable family are off enjoying the sun in Turks and Caicos! Not going to lie, I am a tad bit jealous.
I will most definitely be living vicariously through all her photos upon her return!
I have been a mama for a little over 3 months now. What amazes me is just how much life has changed in that short period of time. When I was still pregnant, I tried to picture the day we would bring our daughter home from the hospital. It was so hard for me to wrap my brain around the fact that someday, in the very near future, Pete and I would enter the hospital as a family of two and leave as a family of three. Life as we knew it would be forever changed. That I knew.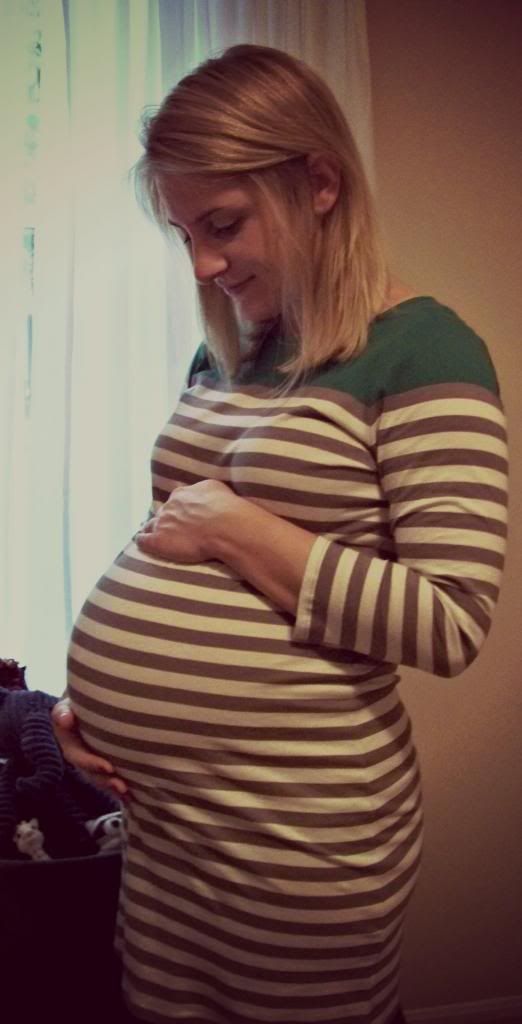 Me at 39 weeks...the last belly picture before welcoming our Josephine. As I sit here, three months in, I find myself thinking back to that pregnant me. Thinking how she really had no idea how much life would change the moment that baby was born. Three months ago, I thought I was prepared for all that this new adventure would bring. But, in the past three months, I have been taught so much. Some lessons more serious than others. But each just as important as the next...
/1/ You can make a plan, but there's no guarantee that everything will happen according to your plan.
Oh, I could write a book on this one! And that book would start with the
birth of our little peanut
. Although I didn't have a formal birth plan, I had a list in my head of things that I knew I wanted. I knew I wanted an epidural. I knew I wanted to immediately hold my daughter, to get that immediate skin-to-skin that is so important. I knew I wanted to exclusively breastfeed. And there was no doubt in my mind that all of those things would happen. Well, fast forward to an early morning scare that landed me in the hospital two days before my due date, preparing to have my daughter delivered via c-section. Had there been a written birth plan, I can assure you, the one thing you wouldn't have found was
"have a c-section."
The c-section made it impossible for me to get that immediate skin-to-skin time that I had planned for. It also made breastfeeding very difficult. It has taken time for me to push the
what-ifs
out of my head. I can't help but think had I not had a c-section, they could have put that baby on my chest and she would have immediately taken to nursing. Then, she wouldn't have lost so much weight after birth. We wouldn't have had to supplement with formula. Breastfeeding wouldn't still be a constant struggle. But, everything happened how it happened. And we have a beautiful, healthy baby girl...and that
was
part of the plan
.
/2/ You will question everything you do. Is she eating enough? Am I holding her enough? Am I holding her too much? Why is she crying? Is she tired? Is it gas? Is she too warm? Is she cold? Is her swaddle too tight? When should I stop swaddling her? Is she sleeping enough? Are we doing enough tummy time? The list goes on and on...

/3/Google is both a blessing and a curse.
If you could only see my Google search history. Almost everything starts with Is it normal... Is it normal for my newborn to have explosive poops? Is it normal for my breastfed baby's poop to smell? Is it normal for my baby's umbilical cord to bleed? Is it normal for my baby's soft spot to bulge? I love having the internet to quell a lot of my new mom paranoia, but sometimes it only adds to my anxiety. For instance, the other day I pretty much convinced myself that Josephine had encephalitis or meningitis. Her soft spot was slightly raised, so I of course turned to Dr. Google. Bad idea. She was otherwise healthy. No fever. No vomiting. But after reading all the message boards, I was sure she was deathly ill.
/4/ Priorities change...and that's a good thing! Before having Josephine, I would get anxiety if I couldn't get the house cleaned at least once a week. Now, I'm lucky if we get to clean twice a month. And you know what? I am a-okay with that. I've learned to accept that a clean house does not make me any better of a mother or a wife. And, there are new, more important things to do. Like cuddling and dancing and singing and rocking...
/5/ Just when you think you have everything figured out, you don't. I can't tell you how many times Pete and I have thought that we finally crossed some milestone off the list only to be utterly, and completely wrong. Case in point, Josephine slept for 8 hours one night. We did a happy dance and thought Finally, we can get a proper night's sleep! Hooray! The next night comes, and we put her down, looking forward to another evening of more than 2 consecutive hours of sleep. Well, the joke was on us. The girl woke up to eat every 2 hours on. the. dot. That's when you just have to laugh. Parenthood is a sneaky little thing. Those long stretches of sleep still happen every now and again. And I still get that giddy feeling when it does. But we'll wait until it happens two nights in a row to do any celebrating.
/6/ Showering everyday is overrated. So is getting dressed and putting on makeup. While showering and changing out of last night's pjs would probably make me feel more like a human and less like a walking burp cloth, there just isn't the time most days. And, like cleaning, this is something that has been pushed to the bottom of the priorities list. When Josephine finally goes down for a nap, sometimes I would rather just sit in front of the television, turn on BRAVO! and eat something while I have both my hands free. Don't get me wrong, though. I do hope that my days of unwashed hair and sweats are numbered. And, although he would never say it, I am sure my husband does, too...
/7/ You will never feel a love like you do for your child. Never. Sometimes I feel like my heart might explode right out of my chest. Especially when she gives me that smile. The one that says, 'I know you are my mama.' And it kills me. Every time.