If you have a smart phone or laptop or tablet, I'm sure your children know how to use it as well as you - maybe even better!
On Super Bowl Sunday, I let Liv take some photos of her "guys" with my phone in an effort to clear her from the TV screen when the commercials came on (loved the Taco Bell one, by the way)
She snapped a few shots...
I got a few of her with her guys...
And then made this video message for me (sorry for the repeat for my Facebook friends, but this is too cute to not share with the masses)
I promise it's very short, and really cute.
I'm not just saying that because I'm her mom!
I will apologize for her "Blair Witch" style of film-making! Good thing she didn't have a cold!
I've watched it probably 87 times since Sunday. And I don't intend to stop anytime soon.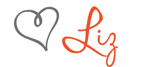 Meet this wonderful sponsor