I made a bargin with Liv when she was born.
I would feed her and love her and care for her.
And she would stay small and tiny forever.
Only one of us has held their word.
Avery isn't showing signs of compliance either.
With each day, Liv is getting smarter.
She's watching shows and figuring out that when you get "bigger" there are other things to do:
School
Friends
Maybe getting big like her MOM and becoming a mom herself.
Thankfully we have no breeched the "sex" topic, though I know that trauma is coming.
Regardless, she's thinking she's going to get "older."
Liv: The truth is Mom, when I get bigger, I still want to be with you.
Me: You may not though. You may want to have your own family in your own house.
Liv: Okay. But maybe we'll live across the street from you, so I can still come see you in the morning.
Even typing this out makes me teary.
I know it's not true.
She will get older, she will move away.
Even if it's five minutes, she won't be there when I wake up each morning forever.
Rationally, I know it's a blessing and curse.
You raise these little people to become big people.
You want them to grow and succeed and
live
.
That doesn't mean that I don't ever want to be the center of their world, even though I know it's the way of the world.
I've grown up,
Moved out,
Fallen in love,
And become a mama of my own.
And my parents aren't far away.
I see them weekly.
Talk to them daily.
And yet, I know, they miss my mess.
They'd never admit it, but they do.
The laundry, the noise, the empty pop cans, the extra plates to clean at dinner.
And the same goes for my older sister's mess.
You go from cleaning and caring for four...
to three...
to two...
It's why their world lights up when the grandkids come over.
The house goes from order to clutter-cluster chaos in 3.4 seconds.
And I know they
LOVE
every minute.
One day, the grandkids will be too cool to come "play."
The mess will again fade.
And it will go again to the two of them,
Their cereal bowls for dinner and the shopping list for two.
So before the mess fades back to Nate and my mess.
And let's be honest, it's more him than me,
I want to have more fun that worry about picking up.
Let's not mistake - I do not WANT clutter.
I'd love for everyone to pick up after themselves, especially those who can (ahem, HUBS.)
But it's a good reminder that it's truly short-lived.
Even the ugly newborn months fade-
They smile
They sleep.
It changes too fast.
And then it's gone and you miss it a little.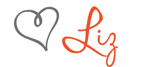 ,
Meet this wonderful sponsor