This is a link up I admire.
Bare your soul, be witty, funny and charming.
All things I do naturally (ha!) so how could I pass this up!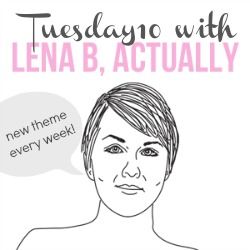 This week, it's all about the random acts of kindness.
Basically the things we know we should do, but don't always do.
Ironically, these are things I say almost daily to my girls, or myself, in the hopes that if I say them enough times they'll stick.
Mostly to myself.
1. Use kinds words.
I have a bit of a hot temper and potty mouth. It's a miracle my daughters have absorbed as little as they have. Ask in a kind voice. Say no thank you with kind grace. Practice what you preach - I getit.
2. Assume positive intent


It's easy to assume the person doing some jackass thing is doing it to piss you off. They're probably just a jackass. Or just unaware. Go easy on them.
3. Smile when you answer the phone.


Cliche, but it really makes a difference. Don't believe me?? Scold your dog. First, with clenched teeth, then, say the same "Bad dog" words with a smile. When does their tail wag more?
4. Remember your "pleases" and "thank yous."


I am, perhaps, unfoundedly proud that my girls say "thank you" a lot. This wasn't by accident. Repetition works.
5. Focus on the big things.


The laundry will overflow, the dish will always need to be done. Is there joy? Laughter? Sure - bills need to be paid, but I promise you, a kiss good night from daddy after a long shift will mean more than a white pony in a vast green pasture. Believe me when I say - they notice the little things. It's the kiss at bedtime vs. the pony in the yard. The word little vs big can be used interchangeably at that point.
6. Would you say that to your mother?

I recently watched some jackass high-schoolers makes some lude faces at one another. My first though was "aren't you cool?" My second, mature, reaction was "Would you make that face to you mother?" Would you say that in front of your mother? And if the answer is yes - depending on you age - a few more things should be considered. But always assume someone is watching. Don't assume you're ever out of "making an ass of myself" range
7. Tips are based on skill not on monetary availability.


I've made no joke that my girls were raised on happy hours. We like to go out - and with my being home, that has been lessen. The respect we show our servers, however, has not. Liv, will always ask for "A lemonade. With a cherry, please." Refer to #4. We didn't raise a heathen. Those wait staff who treat our kids with respect - even if they don't go overboard - but don't act like you're being put out. You'll get a gold star in my book. I have even been known to track down management of exceptional staff. People love to complain. How often do we compliment? My note may be as simple as "They were thoughtful, especially with my kids."




8. Say "thank you." A lot.

I may have referenced this before, but I cannot stress how far THANK YOU can go. To your college, direct report, barista, bartender, cashier, nanny, husband or child. We all crave validation, even if we're too cool to admit it. Thank you goes a long way. It always has, and it will be the everlasting currency.
9. Hold the door open.
Pay attention to the world around you. Even if they're a good three steps behind you - slow your pace, linger at the door, and hold it open. I promise you, it won't take time from your day. I may seem like a nuisance, but truly - where do you HAVE to be?
10. Walk with your head up and eyes bright.
This rule mimics a lot of what I've said. Have a joyful heart and smile, bring light to your eyes. Show that to others. I promise, they will have a hard time ignoring it and you will have send a lovely snowball on it's way.