We all want our blog or business to become the biggest and the best. But this is road that you cannot forage on your own. There is an entire world of people who can help build and support you, and in turn, you can do the same for them.
This is how I came up with the idea for this link party. The first Monday of every month, come here, link up your blog, social media and online shops in return for following those who do the same. Pretty simple return on your investment of a few minutes.
This month, I'm pleased to have partnered with these lovely ladies this month:
The rules to play are very simple. Follow along with your hosts. Link up in each of the appropriate categories. Follow along at least 5 other members in their various mediums. Share the party where you can - the more people that visit, the more opportunities we all have to gain fans and followers. Don't link and run - no one likes a quitter. Unless it's for smoking, in which case I totally support that!
Grab a button or link back to this party and page!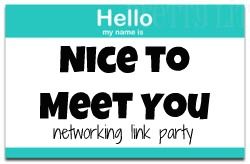 Interested in co-hosting? Shoot me an email
here
(accordingtol1128 (at) gmail (dot) com)
Ready, set, meet!!
BLOG
TWITTER
FACEBOOK
INSTAGRAM
PINTEREST
ETSY/SHOP