It's that time of the week where I get to vent a little bit, maybe brag a little bit, and hopefully make you giggle (a lot!) Be sure to check out
Shannon
this week too!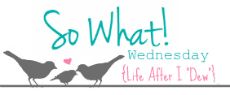 This week, I'm saying SO WHAT:
I gave in to Olivia's request not take a nap on Friday afternoon so she could stay up and swim at Grandma's pool with her Dad and me (thank you half day of well-utilized PTO).
I gave in on Saturday afternoon to the same request so my big girl could get brave enough to swim in the shallow end, with no floats and put her whole face underwater! PROUD MAMA MOMENT!
I spent more time on blog writing and planning this week than laundry, cleaning and cooking combined.
I actually feel really, really sad that this season of Game of Thrones has ended. I'm even more mad that the hubs bought the "non-lendable" version for his Nook.
Olivia's bedtime is 8 PM, but we have her tell time off the clock in our room which is set 15 minutes fast.
Even knowing that GBC was cancelled, I'm debating on whether or not to watch the episodes that are on the DVR. Summer TV is TOUGH!
I am a little happy that Nate doesn't start his new job for another week. I have projects around the house that need finishing!
I "let" the hubs give me my anniversary present early because he was so excited and proud. I love surprises, but I love those little blue boxes more (stay tuned for tomorrow's My Life in an Instagram for the reveal - check out last week's to get your ideas ready so you can link up!)
Look at my big girl! I was so excited, I couldn't even pretend to be cool about it!
Oh, and only a few days left of the Ginger Snaps
giveaway
! You can post and Tweet every day for extra entries!