It's the time of the week again ladies.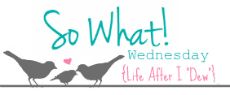 I'm linking up with Shannon over at
Life After I Dew
to say SO WHAT to this:
I had a mini-meltdown yesterday regarding our financials. I'm feeling super guilty that what pulled me out was the realization that I want to quit my 9-5 job and stay home.
I tried to make rhubarb scones and failed MISERABLY. This is why I make dips, not desserts.
I bought Olivia real Cover Girl make-up for her dance pictures and recital this year. All I kept thinking was that I'm making a baby drag-queen.
I have only three more days with my work bestie before she goes off to LA to get married and live with her new doctor husband. I'm so sad I could cry.
I have reluctantly joined Twitter and I have no idea the best way to use it to my marketing advantage (@According_To_L)
What are you saying SO WHAT to this week? I'd love to hear that I'm not the only loony toon out there!!