It's the time again...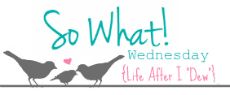 I agreed to get a bike with the main intention of taking family rides to Cherry Berry (local frozen yogurt bar)
I am having the hardest time finishing "Mocking Jay" (third book in the Hunger Games series. I just don't care anymore about Katniss and her boy drama.)
I am watching HBO's Girls even though I'm way too old to relate to these 22-year olds. To quote a character from episode 3: You could not PAY me to be 22 again.
I am not sure Olivia will make it to her 4th birthday with me. She's at "that age" that I pray Avery will skip.
I am trying to "destash" items on Etsy only to find MORE things that I want to make and sell. So much for the downsizing and de-cluttering of my office!
I can't remember the last time my family ate a hot vegetable side that wasn't from a steam fresh frozen bag.
What are you saying "so what?" to! I'd love to hear!!