Hump Day - Happy Day. The second day in a four day week. Hooray!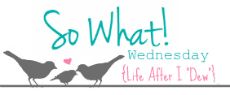 We ate at McDonald's TWICE on Friday during our road trip. At least breakfast included yogurt and fruit, but we wanted to hit the road baby!

I took a half day of PTO and promised myself it would be a relaxing time, but instead and I worked on

Etsy

orders and a tutorial for a kiddo step stool. Oopsie.

I bough Olivia another dress when I set out to buy more shorts in the hopes that she might actually wear them to play outside. But it was on clearance at Target, so it's justified.

I tried on neon shorts from the Gap, but put them back. I just can't justify $50 for shorts, even if they were adorable.

I bought the iBook Snow Flower and the Secret Fan to read this weekend and got to page 4. Luckily the poolside season is just starting and I've got three months to get through it!

I sat in the back seat with the girls on our way home from my sisters so I could stretch my legs into the front seat (read: watch Sleeping Beauty - it was my favorite Disney movie before I even had kids!)
I hope you're all having a wonderful week!