I love
Shannon
- she's a girl after my own heart. Kind, thoughtful, witty and she loves beer. And she's proud of that! HELLO!!
She also hosts my favorite linky party of the week. Sure tutorials and recipes are awesome for sparking my own creative juices, but I love the opportunity to just vent/share/brag/and otherwise talk about ME :)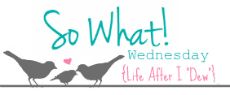 Here's what I'm saying SO WHAT to this week:
I have been seriously disappointed with season finales this time around: Grey's and Desperate Housewives - thumbs down.
I am so excited that Pregnant in Heels is back on Bravo. Rosie Pope is adorable and I know that if we met in real life, we'd be best friends.
I snagged about 200 paint chip samples from Lowes with the intention of a project and haven't decided on one yet.
I have purposely NOT looked at kid apps for the iPad this week. I got gift cards for Mothers Day, and DANG IT, they're mine!!
Also, this Wednesday, I bring you a super awesome deal for my
Etsy shop
!
This deal is exclusive to my blog readers, so ENJOY!!!
through May 28th