Hump Day. Here we go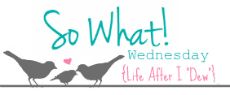 Olivia got a pack of Gummy Bears from our favorite server at the 5*8 Club last week, and I've eaten every single one of those sugary little buggers.
I pay good money for a cute haircut, but I end up using a hair tie daily.
I was pleased with my sun-pinked shoulders from gardening this weekend.
I drank a glass of wine alone on my deck this past Mother's Day while the girls napped.
I have listened to "Call Me Maybe" more than a person should. Partly because Liv loves to dance to it, and partly because I find it entertaining as well.
I am shamelessly linking up with other bloggers in the hopes that this can turn into a full-time gig for me someday. Do you host a party that I should join?? Let me know!
I only mildly care that Avery eats the sidewalk chalk more than she draws with it. She's my second - what can I say - I know she'll survive it.
What are you saying SO WHAT to this week?