I subscribe to the Food Network magazine. If you don't, I highly recommend it. So many yummy, and easy recipes, along with the fun, would-be-great-to-try-but-probably-won't-ever-be-that-ambitious foods too!
Each edition has a mini-book, with 50 themed ideas. There was one month for pizzas, one month for eggs, December usually has to do with cookies. June 2012 has 50 Things to Grill in Foil. The husband has challenged me more than once to make more of the actual recipes from my beloved magazine, so we have decided to make this mini-book part of our summer bucket list.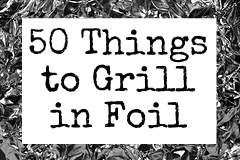 At first, I thought about going in order, but you'll see it's outlined with apps first, main dishes, side dishes and so on, so I may bounce around a little. I promise I'll always link back here with ingredients, steps and photos.
Some have seemingly rare ingredients (what's a shishiot pepper?), and my dislike for beans may make the "Succotash" a night where I try some, but end up with a PB&J, but I'm willing to make of a go of it!
Who's with me!?
Spiced Nuts
Jerk Chicken Wings
Roasted Garlic
Quesadillas
Lobster Scampi
Mussels
Gnocchi
Paella
Portuguese Clambake
Lemon-Herb Chicken
Meatballs
Popcorn
Asian-Style Ribs
Glazed Pork
Zucchini and Tomatoes
Ravioli and Zucchini
Chorizo and Peppers
Fish Provencal
Mexican Fish
Mustard-Dill Salmon
Succotash
Pattypan Squash
Baby Beets
Shishito Peppers
Portobello Mushrooms
Cipollini Onions
Sesame Bok Choy
Spicy Scallions
Potatoes with Bacon
Spiced Potatoes
Potato Gratin
Cheesy Garlic Bread
Toad in a Hole
Bread Pudding
Upside-Down Cakes
Rhubarb Compote
Apple Dumplings
Happy Summer everyone!